霍格沃茨魔法学校外国学生入学考试英语科目考试
(20200208)
出题人:Cherry MH
考试范围:哈利波特与魔法石 第一章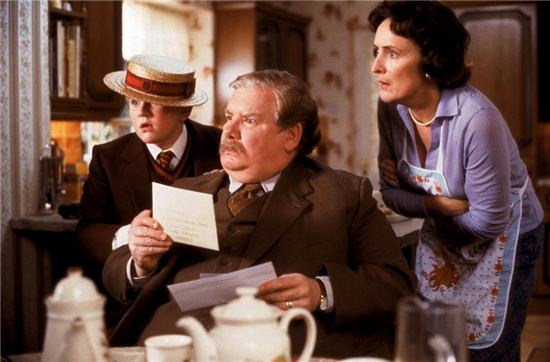 第一部分 听力
一.请听材料,判断正(T)误(F),该材料播放两遍.(每题2分,共10分)
( )1.Mrs. Potter was Mr. Dursley's sister.
( )2.Mrs. Dursley pretended she didn't have a sister.
( )3.Her sister and her good-for-nothing husband were as Dursleyish as it was possible to be.
( )4.The Dursleys ever saw a small son of the Potters.
( )5. This boy was another good reason for keeping the Potters away.
二.听力填空(每题2分,共10分)
He found it a lot __1__ to concentrate on drills that afternoon and when he left the building at __2__ o'clock, he was still so __3__ that he walked straight into someone just __4__ the door.
"Sorry," he grunted, as the __5__ old man stumbled and almost fell.
第二部分 完形填空(每题2分,共10分)
Mr. Dursley stood rooted to the spot. He had been hugged 1___ a complete stranger. He also thought he had been called a Muggle, 2___ that was. He was rattled. He hurried to his car and set 3__ for home, 4___ he was imagining things, 5___ he had never hoped before, because he didn't approve 6___ imagination.
As he pulled into the driveway of number four, the first thing he saw — and it didn't improve his mood — was the tabby cat he'd spotted that morning. It was now 7___ on his garden wall. He was sure it was the same one; it had the same markings around 8___ eyes.
"Shoo!" said Mr. Dursley loudly.
The cat didn't move. It just gave him a stern look. Was this normal cat behavior? Mr. Dursley wondered. Trying to pull himself together, he let himself into the house. He was still 9____ not to mention 10____to his wife.
( )1.A.by B.for C.to
( )2.A.however B.whatever C.whenever
( )3.A.away B.on C.off
( )4.A.hoping B.was hoping C.hoped
( )5.A.that B.which C.when
( )6.A.in B.for C.of
( )7.A.sit B.sitting C.sat
( )8.A.their B.it's C.its
( )9.A.decide B.determine C.determined
( )10.A.something B. anything C. nothing
第三部分 阅读理解
阅读选择题(每题2分,共10分)
"My dear Professor, surely a sensible person like yourself can call him by his name? All this 'You-Know-Who' nonsense — for eleven years I have been trying to persuade people to call him by his proper name: Voldemort." Professor McGonagall flinched, but Dumbledore, who was unsticking two lemon drops, seemed not to notice. "It all gets so confusing if we keep saying 'You-Know-Who.' I have never seen any reason to be frightened of saying Voldemort's name."
"I know you haven't," said Professor McGonagall, sounding half exasperated, half admiring. "But you're different. Everyone knows you're the only one You-Know- oh, all right, Voldemort, was frightened of."
"You flatter me," said Dumbledore calmly. "Voldemort had powers I will never have."
"Only because you're too — well — noble to use them."
"It's lucky its dark. I haven't blushed so much since Madam Pomfrey told me she liked my new earmuffs."
Professor McGonagall shot a sharp look at Dumbledore and said, "The owls are nothing next to the rumors that are flying around. You know what everyone's saying? About why he's disappeared? About what finally stopped him?"
It seemed that Professor McGonagall had reached the point she was most anxious to discuss, the real reason she had been waiting on a cold, hard wall all day, for neither as a cat nor as a woman had she fixed Dumbledore with such a piercing stare as she did now. It was plain that whatever "everyone" was saying, she was not going to believe it until Dumbledore told her it was true. Dumbledore, however, was choosing another lemon drop and did not answer.
"What they're saying," she pressed on, "is that last night Voldemort turned up in Godric's Hollow. He went to find the Potters. The rumor is that Lily and James Potter are — are — that they're — dead."
Dumbledore bowed his head. Professor McGonagall gasped.
"Lily and James … I can't believe it … I didn't want to believe it … Oh, Albus …"
Dumbledore reached out and patted her on the shoulder. "I know … I know …" he said heavily.
Professor McGonagall's voice trembled as she went on. "That's not all. They're saying he tried to kill the Potters' son, Harry. But — he couldn't. He couldn't kill that little boy. No one knows why, or how, but they're saying that when he couldn't kill Harry Potter, Voldemort's power somehow broke — and that's why he's gone."
( )1.Who is 'you-know-who'?
A.Harry Potter B.Dumbledore C.Voldemort
( )2.Why isn't Dumbledore afraid to call name of 'you- know- who' directly?
Because he is the only one Voldemort was frightened of.

Because he is familiar with Voldemort.

Because he hates Voldemort.
( )3.What made Dumbledore so shocked ?
Voldemort have disappeared.

The Potters were dead last night.

Voldemort couldn't kill Harry Potter.
( )4.What does the underlined word 'heavily' mean in this passage?
A.enormously B.largely C.oppressively
( )5.Why did Voldemort disappear?
Because he killed the Potters.

Because he was afraid of Dumbledore.

Because his power broke when he tried to kill Harry Potter.
阅读回答问题(每题5分,共10分)
A man appeared on the corner the cat had been watching, appeared so suddenly and silently you'd have thought he'd just popped out of the ground. The cat's tail twitched and its eyes narrowed.
Nothing like this man had ever been seen on Privet Drive. He was tall, thin, and very old, judging by the silver of his hair and beard, which were both long enough to tuck into his belt. He was wearing long robes, a purple cloak that swept the ground, and high-heeled, buckled boots. His blue eyes were light, bright, and sparkling behind half-moon spectacles and his nose was very long and crooked, as though it had been broken at least twice. This man's name was Albus Dumbledore.
How did the cat react when he saw the man?
What characteristics can be seen the man is old?
What's does the second paragraph describe?
第四部分 短文填空(10分)
But on the edge of town, drills were driven out of his mind by something else. As he sat in the usual morning traffic __1_, he couldn't help __2__(notice) that there seemed to be a lot of __3__ (strange) dressed people about. People in cloaks. Mr. Dursley couldn't bear people __4__ dressed in funny clothes — the getups you saw on young people! He supposed this was some stupid new fashion. He drummed his fingers on the steering wheel and his eyes fell __5___ a huddle of these weirdos standing quite close by. They were whispering __6__(excited) together. Mr. Dursley was enraged to see __7__ a couple of them weren't young at all; why, that man had to be older than he was, and wearing an emerald-green cloak! The nerve of him! But then it struck Mr. Dursley that this was probably some silly stunt — these people were obviously ___8___ (collect) for something … yes, that would be it. The traffic moved __9__ and a few minutes __10___, Mr. Dursley arrived in the Grunnings parking lot, his mind back on drills.
第五部分 作文(15分)
假定你是李华,你想邀请他的笔友Jack 一起去私人电影院看哈利波特系列的电影,请根据以下提示,给Jack 写一封电子邮件,邀请他去看电影,内容包括:
去看电影的时间和地点

邀请看哈利波特电影的原因
注意:词数100左右,可适当增加细节,以使行文连贯。
Dear Jack,
Yours,
Li Hua
---
考试结束,请在下面留言贴上你的答案。
在公众号"霍格沃茨校报"中回复关键词"20200208"获取标准答案。
在公众号"霍格沃茨校报"中回复关键词"20200208解析"获取试题解析。