如果哈利、罗恩和赫敏从来没有在《魔法石》里交过朋友呢?
翻译:阿之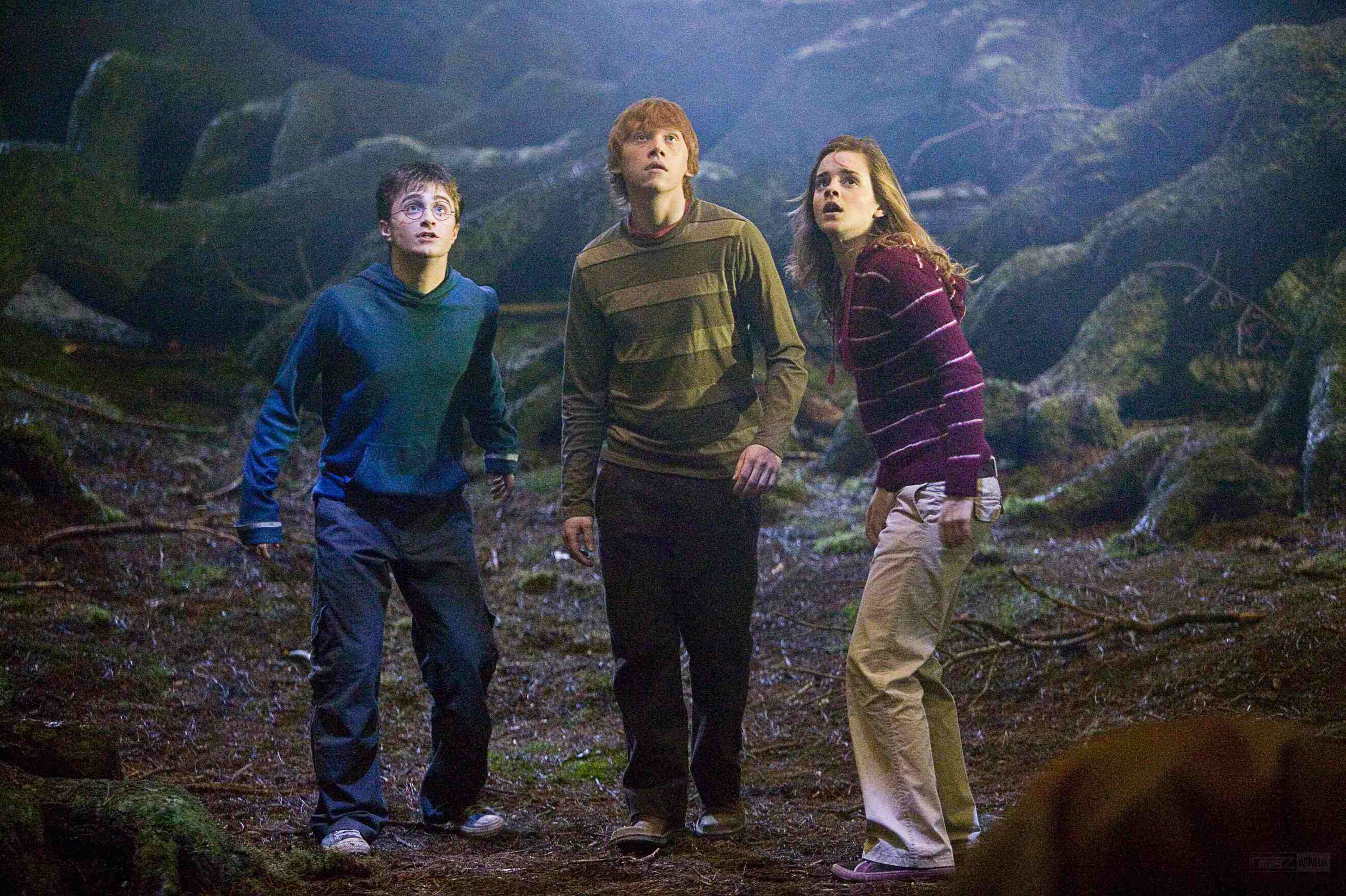 What if Harry, Ron and Hermione had never made friends in Philosopher's Stone?
What wouldhave happened if Harry had never made friends with Ron and Hermione? Or he'd beensorted into Slytherin? We explore the alternative realities of Harry's life in thefirst book.
如果哈利没有和罗恩、赫敏做朋友,会发生什么呢?或者他被分到了斯莱特林学院?在第一本书中,我们探索了哈利人生中不同的现实。
Stories, much like life, are determined by decisions. Lord Voldemort decided to murder Harry Potter's parents. Albus Dumbledore decided to place him, as a baby, in the safety of theDursleys; the Dursleys decided to treat Harry like dirt. And so on. Decisions are the paths we choose from all the other paths.
故事,就像生活一样,是由决定确定的。伏地魔决定杀死哈利·波特的父母。阿不思·邓布利多决定把还是婴儿的哈利安置在德思礼一家安全的地方,德思礼一家决定把哈利对待得像泥土一样一文不值,等等。决定是我们从所有的路径中选择的道路。
Hence ourfascination with paths untravelled – the decisions we didn't make, and what wouldhave happened if we had chosen differently. In quantum mechanics, this is knownas the many-worlds interpretation:the theory that every decisionis in fact a branch point, and all alternative decisions are being played out ondifferent branches, in other realities.
因此,我们着迷于没有旅行过的路——我们没有做的决定,如果我们选择不同的路会发生什么呢?在量子力学中,这被称为多世界诠释:每一个决定实际上都是一个分支点,在其他的现实中,所有可供选择的决定在不同的分支上发挥作用。

The majorbranching point for the Harry Potter series, of course, is its first book, HarryPotter and the Philosopher's Stone. But what of the magical paths untravelled? Whatdecisions would have altered the series as we know it? Let's find out…
当然,《哈利·波特》系列的主要分支是它的第一本书《哈利·波特与魔法石》。但那些未曾走过的魔法之路呢?哪些决定会改变我们所知道的系列?让我们一起来看看……
What ifHarry Potter hadn't grown up in the Muggle world?
如果哈利·波特不是在麻瓜世界长大的呢?
Right fromthe very first chapter of Philosopher's Stone, a major decision was made:AlbusDumbledore decided to leave Harry Potter with his Muggle relatives, the Dursleys,in the hope that he would have a normal upbringing.
从《哈利·波特与魔法石》的第一章开始,就有一个重大的决定:阿不思·邓布利多决定把哈利·波特留给他的麻瓜亲戚德思礼一家,希望他能有一个正常平凡的成长过程。
But what ifDumbledore had decided otherwise? What if Harry didn't need to be where his mother'sblood was, and had been raised in the magical world instead? Well, for one thing,it's safe to assume that the humble, modest and bewildered Harry Potter we knowfrom the books wouldn't exist. He would arrive at Hogwarts with a fully-formed knowledgeof magic and his own fame. Would he have been a Gilderoy Lockhart in the making?Or maybe, after having been asked for the thousandth time for a magical selfie ('Canyou lift your hair up so we can see the scar?'), he would have grown tired of fame.Either way, it's doubtful that upbringing would have forged the fortitude neededto fight Lord Voldemort. His childhood with the Dursleys wasn't a happy one, butit did at least make him who he was.
但如果邓布利多另有决定呢?如果哈利不需要去他母亲血脉所在的地方,而是在魔法世界里长大,那会怎么样呢?首先,我们可以放心地认为,我们从书中所知道的那个谦逊、谦虚、困惑的哈利波特是不存在的。他带着完整的魔法知识和自己的名声来到霍格沃茨。他会成为吉德罗洛哈特那样的人吗?或许,在无数次被要求拍一张神奇的自拍照("你能把头发撩起来让我们看看伤疤吗?")之后,他已经厌倦了成名。不管怎样,成长过程中是否会培养出对抗伏地魔所需的刚毅是值得怀疑的。他在德思礼家的童年并不快乐,但至少使他成为了现在的他。
·What ifHarry had not met Ron on platform nine and three-quarters?
如果哈利不是在九又四分之三站台上遇到罗恩呢?

Not everythingis decided directly, of course. Some things are decided by chance. Take Harry bumpinginto Ron Weasley on platform nine and three-quarters, which is how he was able toget through the magical barrier. What would have happened if chance had other ideas?
当然,并非一切都是直接决定的。有些事情是偶然决定的。以哈利在九又四分之三站台撞见罗恩·韦斯莱为例,他就是这样穿过魔法屏障的。如果碰巧有别的主意,会发生什么事呢?
Well, forone, Harry probably would have struggled to catch the Hogwarts Express. But let'sjust assume that he was smart enough to figure that one out for himself. For thereare bigger ramifications at play here. If Harry had not met Ron at King's CrossStation then they would not have sat together on the Hogwarts Express, they wouldnever have bonded over sweets, and Ron would never have taken out his wand and caughtthe attention of Hermione Granger, one of the most important figures in the HarryPotter series.
嗯,首先,哈利可能很难赶上霍格沃茨特快列车。但我们假设他足够聪明,能够自己解决这个问题。这里还有更大的分歧。如果哈利没有在国王十字车站遇到罗恩,然后他们就不会在霍格沃茨特快列车上坐在一起, 他们不会因为糖果而走到一起,罗恩也不会拿出魔杖引起《哈利·波特》系列中最重要的人物之一—赫敏·格兰杰的注意。
Would theevents of the Harry Potter series have unfolded without the friendship of Ron? Whatif, for example, he had found Neville Longbottom, or Draco Malfoy? Would any ofthem have aided in the search for the Philosopher's Stone, or been able to win agigantic game of wizard chess?
如果没有他与罗恩的友谊,《哈利·波特》系列的故事会不会展开?比如说,如果他找到了纳威·隆巴顿,或者德拉科·马尔福呢?他们中会有人帮助寻找魔法石吗,或者能够赢得一场巨大的巫师象棋比赛吗?
·What ifHarry was sorted into Slytherin?
如果哈利被分到斯莱特林会怎么样呢?
This is abig one:the moment the Harry Potter series could have branched out in eitherone of two ways. If Harry had been placed in Slytherin, it would have altered hispath drastically. It's doubtful, for example, that he would have developed sucha strong friendship with Ron and Hermione. Although that's not to say that he wouldhave got on with Draco Malfoy, either. He was, after all, the worst.
这是一个重要的:《哈利·波特》系列可以以两种方式中的任何一种方式发展。如果哈利被安排在斯莱特林,他的发展就会彻底改变。例如,他与罗恩和赫敏之间是否会发展出如此深厚的友谊,这是值得怀疑的。虽然这并不是说他会和德拉科·马尔福合得来。毕竟,他是最坏的。
Not havingthe support of Ron and Hermione also casts doubts on Harry's ability to solve theseries' big mysteries. Maybe there would have been a super-smart, heroic Slytherinfriend to help him? Or maybe he would have just failed to find the Philosopher'sStone and thus, inadvertently, returned the wizarding world to darkness four yearsearly? Even if that did happen, would Harry have been able to pull Gryffindor'ssword out of the Sorting Hat in Harry Potter and the Chamber of Secrets?
没有罗恩和赫敏的支持,也让人怀疑哈利是否有能力解开这个系列的大谜团。也许会有一个超级聪明、英勇的斯莱特林朋友来帮助他?或者他可能只是没能找到魔法石,因此在不经意间,让魔法世界提前四年回到了黑暗之中?即使这一切真的发生了,哈利还能从《哈利·波特与密室》中分院帽里抽出格兰芬多的宝剑吗?
·What if Ron had not been mean to Hermione?
如果罗恩对赫敏没有好感呢?
This is oneof those things that may seem insignificant but is actually very important. Earlyon in the book Harry and Ron are already friends, but were yet to bond with thesuper-smart but pompous Hermione. In fact, after showing off in Charms, Ron wasparticularly nasty to her:'It's no wonder no one can standher,' he said. 'She's a nightmare, honestly.' Hermione, having overheard this, fledin tears.
这是一件看似无关紧要但实际上非常重要的事情。在书的开头,哈利和罗恩已经是朋友了,但他们还没有和超级聪明但自负的赫敏建立联系。事实上,在魔咒课上炫耀了一番之后,罗恩对她特别刻薄。"难怪没人能忍受她。"他说。"说实话,她是个噩梦。赫敏听到这话,哭着跑了。
Now, of course,there's a chance that Harry, Ron and Hermione would have bonded in a different way,but as it stands, it was Ron's mean jibe that sent Hermione running to the girls'toilets, which sent her on a collision course with a troll, which sent Harry andRon on a mission to rescue Hermione from said troll. You can't get a stronger bondingexercise than that.
现在当然有机会使哈利、罗恩和赫敏以不同的方式成为朋友,但是目前, 罗恩的刻薄嘲弄使赫敏跑到女厕所,使她与山怪在战斗, 这让哈利和罗恩去执行一项任务,把赫敏从那个巨怪手里救出来。你再也找不到比这更能增进感情的方式了。
So why are these chain of events so important? Because as we mentioned earlier, Hermione isone of the most important figures of the series:a genius vital to the mysteriesthe trio must solve year after year. Just take Philosopher's Stone, where Hermionefinds the book that unlocks the mystery of Nicolas Flamel. Or beyond that, whereshe solves the mystery of Chamber of Secrets while unconscious, or saves the daywith a Time-Turner in Prisoner of Azkaban. The list is long.
那么,为什么这些事件如此重要呢?因为正如我们之前提到的,赫敏是这个系列中最重要的人物之一:一个对三人必须每年解决的谜题中至关重要的天才。以魔法石为例,赫敏在那里找到了揭开尼可勒梅之谜的书。除此之外,她在昏迷状态下解开了密室的秘密,或者在《阿兹卡班的囚徒》里用时光机拯救了一天。赫敏做的事很多很多。
If the trio hadn't bonded over that troll, and Harry and Ron hadn't become close friends withHermione, it's safe to bet that the Harry Potter series would have consisted ofHarry and Ron just bumbling about, never solving anything. Voldemort's victory wouldhave been swift, and easy.
如果这三个人没有因为那个巨怪而走到一起,哈利和罗恩也没有成为赫敏的好朋友,那么可以肯定的是,在《哈利·波特》系列中,哈利和罗恩只会游手好闲,不会解决任何问题。伏地魔的胜利会迅速和容易的。
To celebratethe 20th anniversary of Harry Potter and the Philosopher's Stone, Pottermore willexplore themes, moments, characters and much more from the very first Harry Potterstory. Come back on Tuesday when we look at all the despicable things the Dursleysdo in the first book.
为了庆祝《哈利·波特与魔法石》出版20周年,Pottermore将探索《哈利·波特》第一部故事的主题、情节、人物等。下周二我们再回来看看第一本书里德思礼一家所做的卑鄙的事情。
原文:Pottermore
翻译:阿之
https://www.wizardingworld.com/features/what-if-harry-ron-and-hermione-had-never-made-friends-in-philosophers-stone