It's Neville Longbottom's birthday! To celebrate, we've thought about some of the reasons why we adore this brave Gryffindor – from his heroic deeds to his love of Herbology…
今天是纳威隆巴顿的生日!为了庆祝,我们想了一些为什么我们崇拜这个勇敢的格兰芬多的原因——从他的英雄事迹到他对草药的热爱……
His love for all things Herbology
他热爱草药学的一切
Neville didn't have the easiest time when it came to his lessons at Hogwarts. We know our hearts broke every time Professor Snape was cruel to him in Potions. But Neville did have a wonderful gift for Herbology. We couldn't have been happier than when we found out that he had gone on to become a Herbology professor – it was the perfect fit for him. We adored the passion that he had for the subject, the way he would light up when talking about magical flora and fauna and how it was the one class that helped to raise his self-esteem.
纳威在霍格沃茨的课上得并不轻松。我们知道,每次斯内普教授在魔药课上残忍地对待他时,我们的心都碎了。不过纳威在草药学方面确实有一份出色的天赋。当我们发现他后来成为了一名草药学教授时,我们高兴极了——这对他来说是再合适不过的了。我们很欣赏他对这门课的热情,他在谈论神奇的动植物以及这门课是如何帮助他提高自尊的时候,他会兴奋起来。
'Oh yes,' said Neville, 'I'm fine, thanks. Just reading this book Professor Moody lent me ...'
He held up the book: Magical Mediterranean Water-Plants and Their Properties.
'Apparently, Professor Sprout told Professor Moody I'm really good at Herbology,' Neville said. There was a faint note of pride in his voice that Harry had rarely heard there before. 'He thought I'd like this.'
Harry Potter and the Goblet of Fire
"哦,没事,"纳威说,"我很好,谢谢。正在看穆迪教授借给我的书……"
他举起那本书:《神奇的地中海水生植物及其特性》。
"显然,斯普劳特教授对穆迪教授说过,我的草药学很好。"纳威说。他的声音里有一种微弱的骄傲,哈利以前在那里很少听到过。"他认为我会喜欢这个。"
《哈利·波特与火焰杯》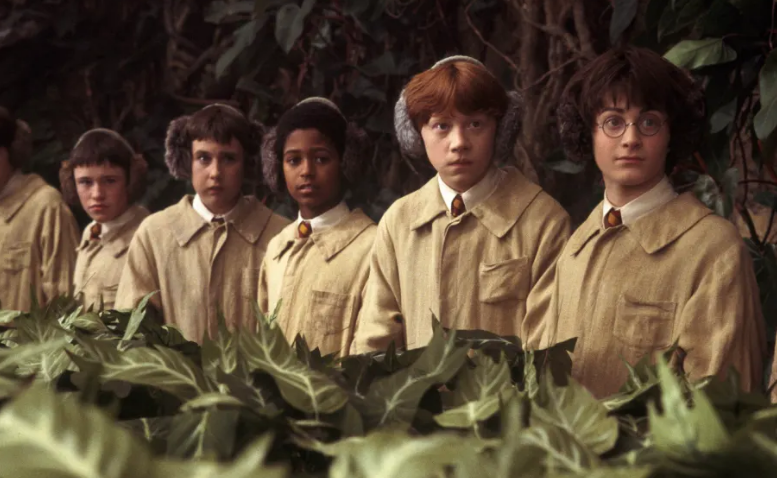 His clumsy nature
他笨拙的个性
We secretly love that Neville wasn't the most coordinated person – it undoubtedly brought some lighter moments to the story. Whether he was tripping over a stool on his way to the Sorting Hat, breaking his wrist in his first ever flying lesson, smashing teacups in Divination or melting Seamus's cauldron in Potions – it just made him all the more relatable.
我们暗自庆幸纳威不是最协调的人——这无疑给故事带来了一些轻松的时刻。不管他是在去分院帽的路上被凳子绊倒了,还是在第一堂飞行课上摔断了手腕,在占卜课上摔坏了茶杯,还是在魔药课上融化了西莫的坩埚——这些都让他更容易被人理解。
Neville had never been on a broomstick in his life, because his grandmother had never let him near one. Privately, Harry felt she'd had good reason, because Neville managed to have an extraordinary number of accidents even with both feet on the ground.
Harry Potter and the Philosopher's Stone
纳威一生中从来没有骑过飞天扫帚,因为他的祖母从来不让他接近飞天扫帚。私下里,哈利觉得她有充分的理由,因为纳威即使双脚着地,也能制造出数量惊人的事故。
《哈利·波特与魔法石》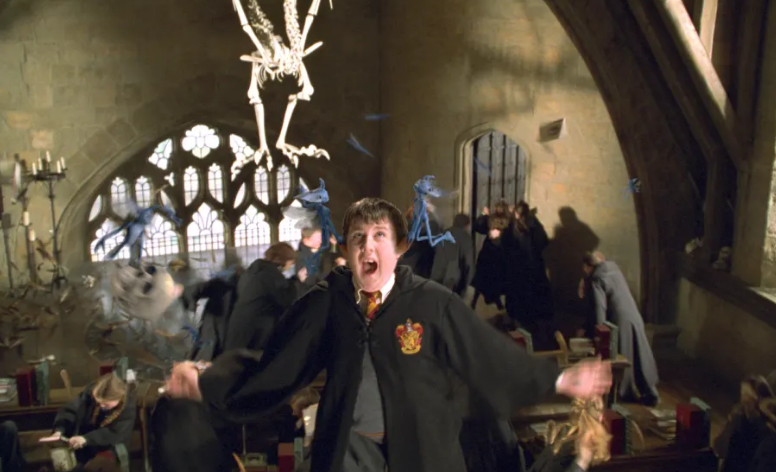 His rebellious streak
他倔强的脾气
When we first met Neville, he didn't strike us as someone that was a risktaker or rulebreaker. In fact, sometimes it seemed as though he was using all his concentration just to get through the day without any major accidents or disasters. He certainly didn't seem to have space to be thinking about mischief or mayhem. Yet he grew as a person throughout the series and, by the time we reached Deathly Hallows, he had become a strong leader – with a rebellious side. We think the way he stood up to the Carrows and Snape was fantastic, he never gave them a moment's peace. Who would have believed that the Neville we met as a first-year would be the Neville that broke into the Headmaster's office or graffitied the walls of Hogwarts?
我们第一次见到纳威时,他给我们的印象并不是一个爱冒险或破坏规则的人。事实上,有时他似乎把所有的注意力都集中在没有任何重大事故或灾难的日子里。他显然没有空间去想什么恶作剧或破坏。然而,在整个系列中,他作为一个人成长了,当我们看到死亡圣器的时候,他已经成为一个强大的领袖——有反叛的一面。我们认为他对抗卡罗兄妹和斯内普的方式太棒了,他从来没有让他们有过片刻的安宁。谁能相信我们一年级时遇到的纳威会是那个闯进校长办公室或在霍格沃茨的墙上乱涂乱画的纳威呢?
'The Carrows never rumbled how we were communicating, it drove them mad. We used to sneak out at night and put graffiti on the walls: Dumbledore's Army, Still Recruiting, stuff like that. Snape hated it.'
Harry Potter and the Deathly Hallows
"卡罗兄妹一直不知道我们是怎么交流的,简直要把他们逼疯了。我们常常晚上溜出去,在墙上涂鸦:"邓布 利多军,仍在招募新兵"之类的东西。斯内普讨厌它。"
《哈利波特与死亡圣器》
His bravery
他的勇敢
We would suggest that Neville is one of the bravest characters in the entire story. And while it is possible to think of plenty of examples that demonstrate this from later in the series, one of our favourite brave Neville moments has to be the very first time he stood up for himself. As Albus Dumbledore said in Philosopher's Stone 'It takes a great deal of bravery to stand up to our enemies, but just as much to stand up to our friends'.
我们认为纳威是整个故事中最勇敢的角色之一。虽然我们可以在后面的系列中找到很多例子来证明这一点,但我们最喜欢的纳威勇敢时刻之一就是他第一次为自己挺身而出的时刻。正如阿不思·邓布利多在《哈利·波特与魔法石》中所说:"对付敌人需要很大的勇气,但在朋友面前坚持自己的立场也需要很大的勇气。"
'You can't go out,' said Neville, 'you'll be caught again. Gryffindor will be in even more trouble.'
'You don't understand,' said Harry, 'this is important.'
But Neville was clearly steeling himself to do something desperate.
'I won't let you do it,' he said, hurrying to stand in front of the portrait hole. 'I'll – I'll fight you!'
'Neville,' Ron exploded, 'get away from that hole and don't be an idiot –'
'Don't you call me an idiot!' said Neville. 'I don't think you should be breaking any more rules! And you were the one who told me to stand up to people!'
Harry Potter and the Philosopher's Stone
"你不能出去,"纳威说,"你还会被抓住的。格兰芬多的麻烦就更大了。"
"你不明白,"哈利说,"这很重要。"
但纳威显然是在打起精神,要做一些不顾一切的事情。
"我不会让你这么做的,"他说着,急忙站到肖像画上的洞口前。"我要——我要跟你打!""
"纳威,"罗恩愤怒地说,"离开那个洞,别当傻瓜——"
"别叫我白痴!""纳威说。"我认为你不应该再违反任何规定了!"是你告诉我要勇敢面对别人的!"
《哈利·波特与魔法石》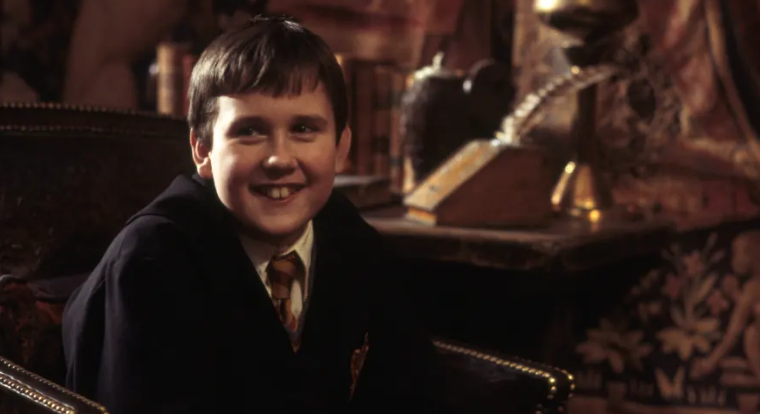 His loyalty
他的忠诚
One other excellent thing about Neville was his loyalty. Despite being a pure-blood who would be accepted in Voldemort's new world, he was never tempted to do anything other than the right thing. He showed loyalty to his friends, his school and also his parents. Neville continued their work of fighting Dark wizards – from the Battle of Department of Mysteries to the Battle of Hogwarts and never wavered in his resolve.
纳威的另一个优点是他的忠诚。尽管他是一个可以被伏地魔的新世界所接受的纯血统,但除了正确的事,他从来不会去做任何事情。他对他的朋友,他的学校和他的父母都很忠诚。纳威继续与黑巫师作战——从神秘事务司之战到霍格沃茨之战,他的决心从未动摇。
'But you are a pure-blood, aren't you, my brave boy?' Voldemort asked Neville, who stood facing him, his empty hands curled in fists.
'So what if I am?' said Neville loudly.
'You show spirit, and bravery, and you come of noble stock. You will make a very valuable Death Eater. We need your kind, Neville Longbottom.'
'I'll join you when hell freezes over,' said Neville. 'Dumbledore's Army!' he shouted, and there was an answering cheer from the crowd, whom Voldemort's silencing charms seemed unable to hold.
Harry Potter and the Deathly Hallows
"可你是纯血统的,是不是,我勇敢的孩子?"伏地魔问纳威,纳威站在他面前,空空的双手攥成拳头。
"就算我是又怎样?"纳威大声说。
"你表现出精神和勇敢,而且你出身高贵。你会成为一个非常有价值的食死徒。我们需要你这样的人,纳威·隆巴顿。"
"地狱结冰的时候我会和你在一起的。"纳威说。"邓不利多的军队!他喊道,人群中也报以欢呼,伏地魔的沉默咒似乎无法控制他们。
《哈利·波特与死亡圣器》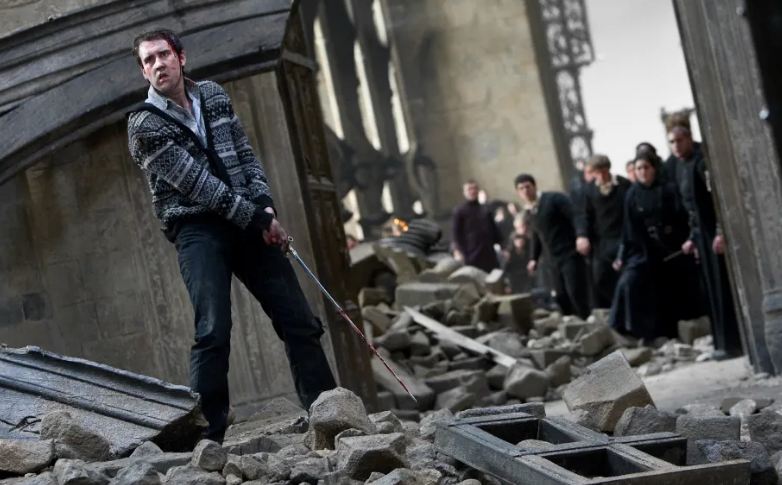 His hard-working nature
他的勤奋工作的性质
As we've touched upon before, Neville did struggle when it came to learning magic. It didn't come as naturally to him as it did to people like Hermione or Ginny. However, rather than wallow in self-pity, Neville worked hard. He was determined, never gave up and ended up being able to hold his own amongst his peers. We were particularly proud of the way he threw himself into being a member of Dumbledore's Army and were thrilled to see all that hard work eventually pay off.
正如我们之前提到的,纳威在学习魔法的时候确实很挣扎。对他来说,这并不像赫敏和金妮那样自然。然而,纳威并没有沉浸在自怨自艾之中,而是努力工作。他意志坚定,从不放弃,最终在同龄人中站稳了脚跟。我们特别为他成为邓布利多军的一员而感到骄傲,并很高兴地看到所有的努力最终都得到了回报。
In fact, Neville barely spoke during the DA meetings any more, but worked relentlessly on every new jinx and counter-curse Harry taught them, his plump face screwed up in concentration, apparently indifferent to injuries or accidents and working harder than anyone else in the room. He was improving so fast it was quite unnerving and when Harry taught them the Shield Charm – a means of deflecting minor jinxes so that they rebounded upon the attacker – only Hermione mastered the charm faster than Neville.
Harry Potter and the Order of the Phoenix
事实上,在D.A.集会上,纳威几乎不说话了,他毫不手软地学习哈利教他们的每一个新魔咒和解咒,他那圆鼓鼓的脸聚精会神地皱着,显然对受伤和事故毫不在意,他比教室里的任何人都用功。他进步得如此之快,令人非常不安。当哈利教他们铁甲咒(一种转移小恶咒,使它们反弹到攻击者身上的方法)时,只有赫敏比纳威掌握得更快。
《哈利·波特与凤凰社》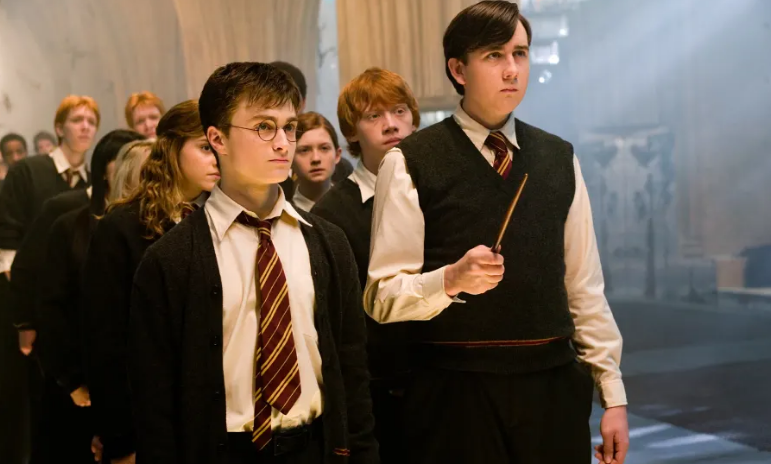 His resilience
他的应变能力
Harry Potter wasn't the only student in his year to have had a troubled or traumatic upbringing. Neville was raised by his gran after Bellatrix Lestrange and her cronies tortured both his parents into insanity. Nevertheless, Neville did not let that horrific event hold him back or break him. When he came face to face with the person responsible for upending his life, he did not wilt or crumble – even when she used the same Cruciatus Curse on him. The strength it must have taken to do that shouldn't go unnoticed.
哈利·波特并不是他这一年里唯一一个经历过麻烦或创伤的学生。在贝拉特里克斯·莱斯特兰奇和她的密友把纳威的父母折磨得精神错乱后,纳威由他的奶奶抚养长大。然而,纳威并没有让那件可怕的事情阻止他,也没有让他崩溃。当他面对那个要对他的生活负责的人时,他没有蔫掉或崩溃——即使她对他使用了同样的钻心咒。要做到这一点所需要的力量不应该被忽视。
'No, no, no,' said Bellatrix. She looked transported, alive with excitement as she glanced at Harry, then back at Neville. 'No, let's see how long Longbottom lasts before he cracks like his parents ... unless Potter wants to give us the prophecy.'
'DON'D GIB ID DO DEM!' roared Neville, who seemed beside himself, kicking and writhing as Bellatrix drew nearer to him and his captor, her wand raised. 'DON'D GIB ID DO DEM, HARRY!'
Bellatrix raised her wand. 'Crucio!'
Harry Potter and the Order of the Phoenix
"不,不,不。"贝拉特里克斯说。她看了看哈利,然后又看了看纳威,看上去很兴奋。"不,让我们看看隆巴顿能像他父母那样崩溃多久……除非波特想把预言球给我们。"
"别乱来!"纳威吼道,贝拉特里克斯举着魔杖走近了他和抓住他的人,纳威似乎发疯了,又踢又扭。"别乱来,哈利!""
贝拉特里克斯举起了魔杖。"钻心剜骨!"
《哈利·波特与凤凰社》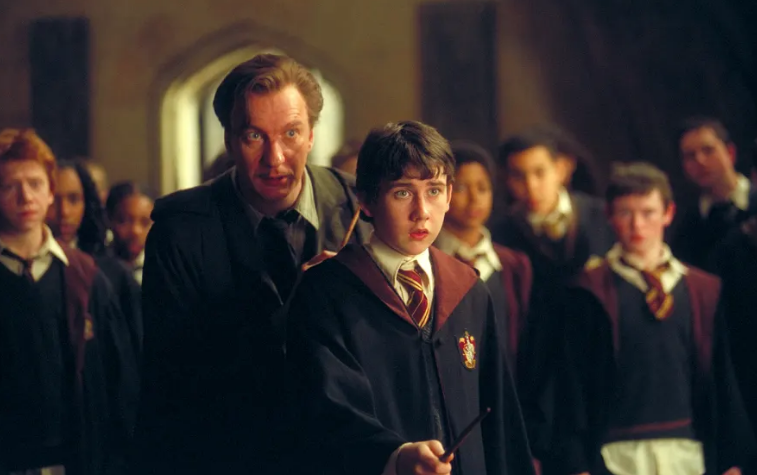 His love for his family
他对家庭的爱
While Neville didn't really mention his parents and often seemed to be a little terrified of his gran, we still got the sense that he loved them all deeply. We know we were particularly touched when he pocketed the sweet wrapper his mother presented to him as a gift in St Mungo's, rather than tossing it away as his Gran suggested. We also adored the way he seemed to be so proud of the woman who raised him, especially when she was battling Death Eater's like the best of them. The fact that he kept her letter in a pocket close to his heart says it all really…
虽然纳威并没有真正提到他的父母,而且似乎经常有点害怕他的奶奶,但我们仍然感觉到他深深地爱着他们。我们知道,当他把母亲在圣芒戈医院送给他的糖果包装纸放进口袋里,而不是像他奶奶建议的那样把它扔掉时,我们特别感动。我们也很喜欢他为抚养他长大的女人感到骄傲的样子,尤其是当她在和他们中最好的食死徒战斗的时候。他把她的信放在贴身口袋里,这说明了一切……
'Thing was,' he faced them, and Harry was astonished to see that he was grinning, 'they bit off a bit more than they could chew with Gran. Little old witch living alone, they probably thought they didn't need to send anyone particularly powerful. Anyway,' Neville laughed, 'Dawlish is still in St Mungo's and Gran's on the run. She sent me a letter,' he clapped a hand to the breast pocket of his robes, 'telling me she was proud of me, that I'm my parents' son, and to keep it up.'
Harry Potter and the Deathly Hallows
"事情是这样的,"他面对着他们,哈利惊讶地发现他居然在咧着嘴笑,"他们在奶奶面前有点吃不消了。一个老巫婆独自生活,他们可能认为不需要派特别强大的人。"不管怎么说,"纳威笑了,"德力士还在圣芒戈医院,奶奶也在逃。她给我寄了一封信。" 他用手拍了拍袍子胸前的口袋,"对我说她为我感到骄傲,说我是我父母的儿子,并坚持下去。"
《哈利波特与死亡圣器》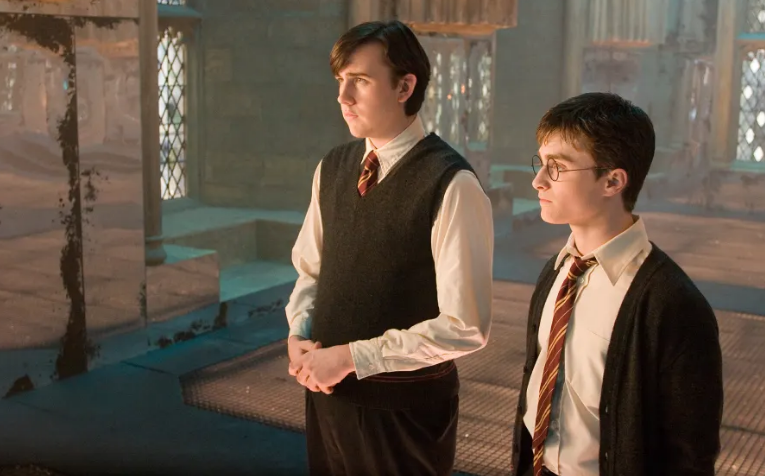 Do you agree with our reasons behind our love for Neville Longbottom? Or do you have different reasons for loving this courageous wizard?
你同意我们爱纳威隆巴顿的理由吗?或者你喜欢这个勇敢的巫师还有其他原因吗?